As February draws to a close and spring nears, menus begin the transition from creamy, rich braises, casseroles, and stews to lighter fare celebrating the shift in seasonal food and the lessened need to eat for a sense of coziness and warmth. Winter greens mingle with spring lettuces, and root vegetables give way to asparagus.
The latter is one of my favorite vegetables, with its quick-cooking time and pretty green stalks making it easy enough for a rushed weeknight meal or elegant enough for company. Simply roasted with olive oil and salt, its toothsome texture and distinct earthy flavor shine. Steam it just until tender and serve with a brightly-flavored sauce, and you'll take this springtime staple to the next level.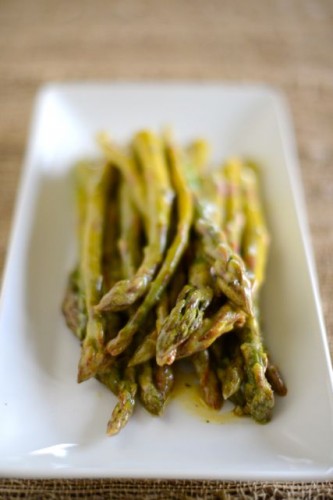 Asparagus with Tarragon Mustard Sauce
Adapted from Simply Classic: A New Collection of Recipes to Celebrate the Northwest, this recipe is perfect for your file of quick and easy recipes to pull out when you're on deadline but still want something special to serve your family or guests. You can make the sauce while the asparagus steams, and the whole thing should come together in a matter of minutes.
1 1/2 pounds fresh asparagus
2 tablespoons white wine vinegar
2 tablespoons Dijon mustard
1/2 teaspoon Worcestershire sauce
1 teaspoon dried tarragon
1 pinch of sugar
1/3 cup extra-virgin olive oil
Remove and discard the tough ends of the asparagus. Steam just until tender. While asparagus is steaming, prepare the sauce by combining all ingredients except the olive oil in a small bowl. Slowly pour in the olive oil, whisking constantly to emulsify. When ready to serve, place asparagus on a platter and pour the sauce on top.
Serves 4-6.