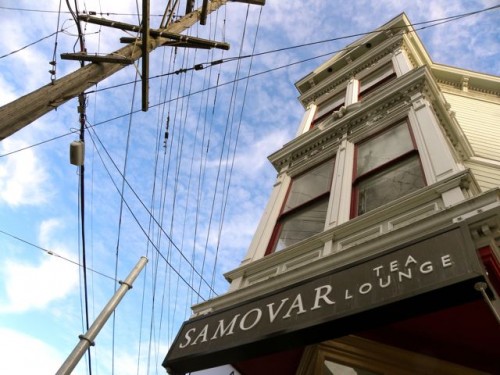 After coffee at Blue Bottle and lunch at La Boulange during our afternoon in San Francisco's Hayes Valley a few weeks ago, we didn't think things could get any better–until we walked into Samovar Tea Lounge.
With its Zen Valley location just half a mile from the other Hayes Valley places we had just visited, we set out on foot to walk off our pastries and lunch and experience a little bit of the neighborhood. What we discovered when we arrived was a tea shop–actually a tea restaurant–that was just up our alley.
Food and Beverages
The only thing we regret about our visit to Samovar is that we arrived with full stomachs. Our time in San Francisco was limited, so we packed in as much fun as we could. But that meant not leaving enough room to sit and have a meal at Samovar. If we had, Daytona might have ordered the Russian Service with tagarraon-marined beets, smoked salmon and horseradish, devilled egg with caviar, and other foods served with Samovar's smokey Tolstoy's Sip black tea ($24). Then again, perhaps she would have chosen the Japanese Service or Moorish Service–they all sounded delightful. Sarah might have chosen the English service with a 3-tiered platter of goodies and the Breakfast Blend black tea ($24).
Though we couldn't stay to eat, we did make a point to get to know the teas, spending some time with the servers to pinpoint the perfect ones for us to bring home as memories of our trip.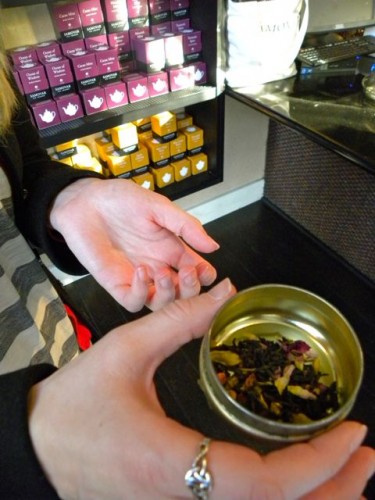 Location and Atmosphere
Located at the corner of Page and Laguna in a micro-neighobhood they call "Zen Valley," and near the San Francisco Zen Center.
Across the street from some lovely classic San Francisco homes, including one that sold in 2006 for $2.3 million.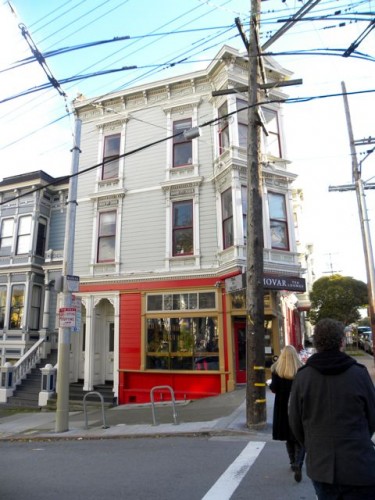 Writeability and Purchased Presence
Discreet is best if you're coming here with writing in mind. Leave the laptop behind, and use your time for contemplation while sipping your tea or to celebrate successes with your writing partner.
Price: $$$

The various services, with food and tea, range from $19-24.
Parking
You'll need to find street parking, which, on the day we were there, seemed like it would have been easy enough. However, even if you have to walk a little, enjoy the classic San Francisco architecture you're sure to see on your way.
Writer's Tip
Word on the street is that some of the Bay Area's greatest minds have gathered at Samovar to brainstorm or share a cup of tea with comrades. Consider sitting a while with friends, soaking in the zen and do a little brainstorming of your own. Bring pieces to critique, or simply enjoy a meal together after a long day of writing.
Find It
Samovar Tea Lounge – Zen Valley location
297 Page Street
San Francisco, CA 94102
Website