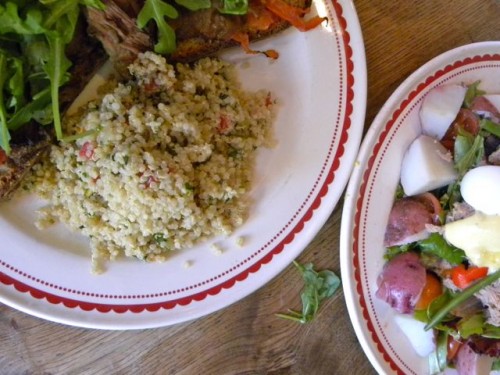 We happened upon La Boulange in San Francisco's Hayes Valley after getting coffee at Blue Bottle on New Year's Eve. With an eagle eye for anything resembling a French boulangerie or patisserie, Daytona spotted the corner restaurant from our bench in Patricia's Green, and we made a beeline over to see if La Boulange would serve as an appropriate lunch spot for four hungry adults and two toddlers.
With 20 locations, this Bay Area bakery prides itself in making authentic and delicious French food and strives to provide the French neighborhood cafe experience for its customers. The founder, in fact, has a background in working in presigious bakeries in Paris and near Bordeaux.
Food and Beverages
On a sunny winter afternoon after enjoying coffee and pastries at the nearby Blue Bottle, we all needed a real meal but didn't want anything too heavy. The fresh sandwiches and salads on the menu at Boulange sounded like just the thing; little did we know that the portions would be twice as large as our appeties could handle. The flank steak sandwich, served open-faced, was flavored with roasted onion, tomato, arugula, and aioli. Served with a quinoa salad on the side, it was a hearty yet fresh option, that would have been perfect to split with a friend. As for the salade niçoise, we've had some incredible versions in our time, including the one at Brasserie Four in Walla Walla, which is one of the best we've ever had, so unfortunately the one at La Boulange, had high standards to meet, and while it was tasty, there was nothing notable about it.
Location and Atmosphere
La Boulange is on the corner of Hayes Street and Octavia Street across the street from Patricia's Green park. The cafe was crowded, despite the spacious dining room – a good sign in our book! We managed to snag a cozy corner able that was just big enough for the six of us, with toddlers on our laps and the umbrella strollers folded up and tucked away. The atmosphere was upbeat, bustling and overall charming.
Writeability and Purchased Presence
If it's crowded, you'll want to be mindful of the other people waiting for tables. If not, feel free to take your time as you enjoy your sandwich and sip your beverage.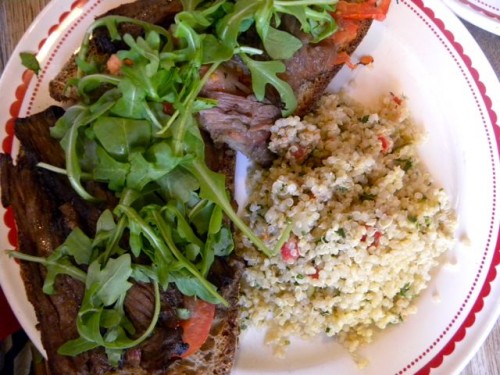 Price: $$
Pricing is reasonable especially for the hearty portions. Sandwiches (including an option of sides) start at $8.00. And don't forget to bring a little extra for pastries!
Parking
If you're coming from Blue Bottle, as we did, you don't have to worry about parking as the two locations are an easy stroll away from each other. If not, expect to seek out street parking.
Writer's Tip
After a successful writing or brainstorming session, treat yourself to a trip to Miette, the beloved pastry shop that's located nearby.
Find It
500 Hayes St
San Francisco, CA 94102
Website