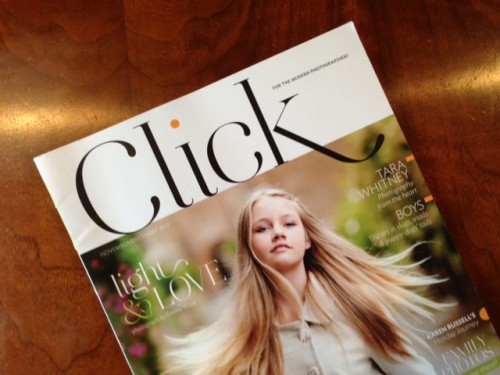 Wondering how you're going to spend the money you received for a Christmas gift? If you're a writer who has a blog, chances are you're interested in photography. And if you're a mother (or at least have kids in the family)Â and a photographer–aspiring or professional–you might be interested in Click Magazine. Recently launched by Clickn Moms, this new magazine is full of tips for improving your photography, ideas and inspiration for new techniques and projects, as well as reviews and listings of products ranging from camera equipment to gifts and accessories for anyone who has a camera. It's geared largely toward women who either want to capture their family life in photos or are building or maintaining professional family photography businesses.
I subscribed in advance of the introductory issue, and have been referring back to it time and time again. This magazine appeals both to the side of me who enjoys reading what other writers are up to and the side that is trying to stay up to date on the latest photography trends without getting too technical.
As writers, particularly if we're also bloggers, we need to be able to take good photographs. Click Magazine is a fun resource that's sure to inspire you to improve upon your photography!