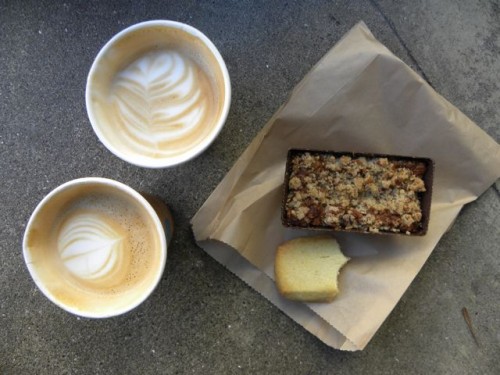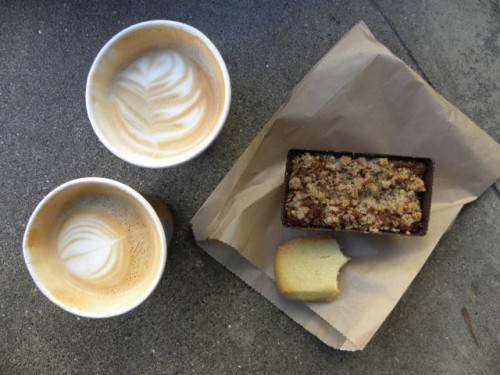 We're excited to kick off the year with a special Destination Inspiration series focused on San Francisco. We ended up in the Bay Area together on a whim over New Year's weekend, and couldn't resist checking out some of the best pastries, coffee, and beer the area has to offer. On our first outing into San Francisco (we were staying with Sarah's parents in Castro Valley), we headed straight to Blue Bottle Coffee in Hayes Valley. Though headquartered in nearby Oakland, Blue Bottle has a number of locations in San Francisco and New York.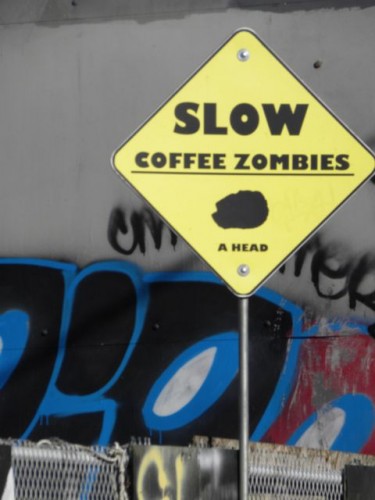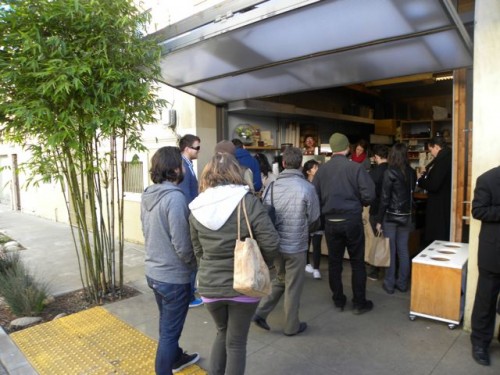 Food and Beverages
Blue Bottle Coffee has built its empire upon, well, coffee, and though we live in Seattle–a city known for its coffee–the cappucinos at Blue Bottle are probably the best we've ever had. Surprisingly, the pastries are–at the risk of handing down too many declarations that sound like hyperbole–undoubtedly the best  we've ever had at a coffeeshop.
The olive oil shortbread had all the elements of a classic shortbread–rich, buttery flavor with a crisp but tender texture–along with the savory touches of Eatwell Farms rosemary and Stonehouse olive oil. The stout coffee cake carried the deep flavors of beer through its tender and moist crumb that was accented with oats and currants. A pecan-caraway streusel finished it off with pleasingly complementary textures and flavors.
Had we visited again, we would have also tried the sesame absinthe cigars made with St. George absinthe and Stonehouse olive oil, and the snickerdoodles with Spanish saffron and Tahitian vanilla, among other pastries. It's a good thing they recently released a book that, while primarily about coffee, contains an impressive selection of recipes, including all the treats we just mentioned. The Blue Bottle Craft of Coffee: Growing, Roasting, and Drinking, with Recipes is available at the store and online.
Location and Atmosphere
The Blue Bottle location in Hayes Valley is like a little hole in the wall that everyone knows about. The kiosk itself is a re-purposed garage with a finely manicured curbside and is tucked in the folds of an otherwise typical ally. It has just enough room for a lovely pastry case, the necessary espresso machines, a counter and the line that seems constantly formed in front of it.
Writeability and Purchased Presence
As a walk-up coffee bar in an old garage in a former alley, there's no place to sit at this Blue Bottle location, but to be honest you don't really need one; less than a block away you'll find Patricia's Green, a little urban park on Octavia Street that's just right for creative inspiration. On a side note, there's amazing inspiration to be found in the history of Patricia's Green and the amazing woman it stands for as a memorial. You can check it out at www.patriciawalkup.org.

Price: $$
Be sure to bring cash or check. The pricing is very reasonable with coffee starting around $3 and generously sized pastries beginning at $1.50.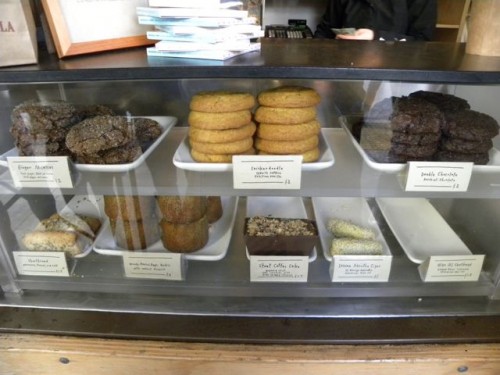 Parking
Parking is always a little challenging in San Francisco and the streets near Blue Bottle are no exception. There are a few streets nearby that have free 2 hour parking, but bring money for the parking meters just in case you can't snag a spot there.
Writer's Tip
Bundle up on a sunny winter day and get a coffee and some pastries at the kiosk, then head over to Patricia's Green. Settle in on a bench to enjoy your treats and let yourself daydream and brainstorm as you watch the world pass by. Jot down observations, thoughts, ideas, and reflections as they come to you, and try to bring a little of this creative and happy state back to your writing space back home.
Find It
Blue Bottle Kiosk, Hayes Valley location
315 Linden Street
San Francisco
Website