There's nothing like a little French inspiration to get us in the mood to write. We may not be able to time travel to Hemingway and Fitzgerald's 1920s Paris, but Brasserie Four in Walla Walla comes close. So it seems like the perfect way to start our Walla Walla-based Destination Inspiration series.
Food
From an artfully composed salade niçoise to macarons with just the right balance between chewy and light, this French bistro in Downtown Walla Walla is one of our favorite spots in Washington wine country. Owner Hannah MacDonald has come up with a menu that celebrates the best of classic French fare, while managing to keep it fresh, fun, and never too heavy.
Location and Atmosphere
Located on Main Street in Downtown Walla Walla, this is the perfect place to people watch, especially if you can get a seat on the patio or by a window. We lingered a while after our meal to enjoy our macarons and just take in the scenery and its people. We noticed business taking place one table over and a man seated behind us raved about the food and said he always stopped by when he was in town.  The atmosphere and cuisine are such that people keep coming back and you can count us among them!
Writeability and Purchased Presence
Come with a notebook and a pen–and ideally a writing partner. This is a great place to brainstorm over a couple of bubbly wines. Keep the mood fun, and not too serious, and be mindful of the crowd when deciding how long to linger.
Price: $$
Expect to pay around $8 for a starter, or $10-20 for an entree. While pretty typical for a restaurant of this caliber, consider your writer's budget before deciding in a moment of epicurean bliss that you're going to come here every day for lunch.
Parking
Street parking is often available along Main Street. We've never had trouble finding a good spot more than a block or two away from our destination.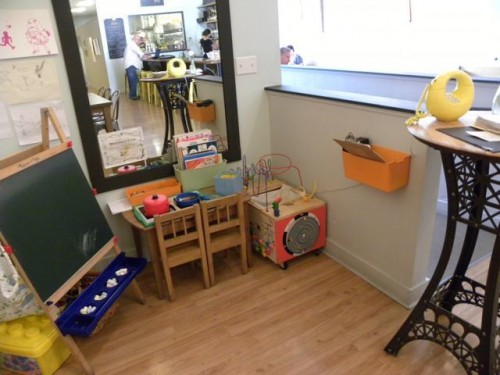 Writer's Tip
One of the few restaurants around with a designated kids' play area, this is the perfect place for a writing meeting when you have to bring the kids along. They also offer a kids' size to virtually anything on the menu, and offer high chairs, which can be hard to come by among Walla Walla's fine restaurants.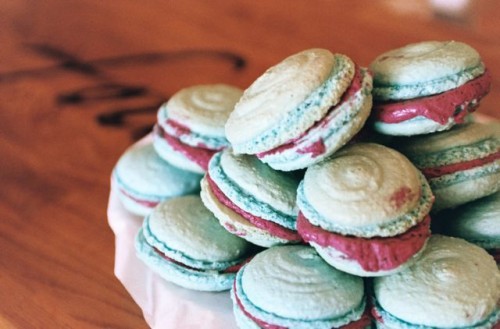 Find It
Brasserie Four
4 East Main Street
Walla Walla, Washington
Website