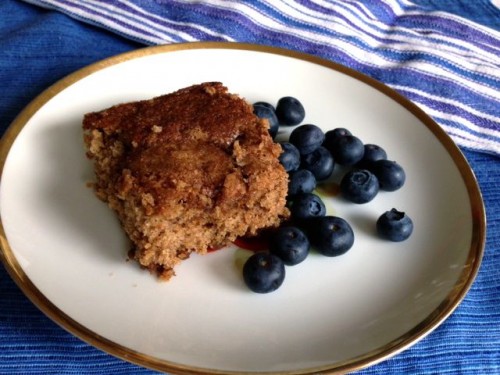 The art of simplicity is something I'm working on mastering when it comes to cooking. As a food-lover who bakes for fun, geeks out on taking photos of what I cook, collects cookbooks, and writes about food both in blogs and print publications, I have an eye for fancy food that's just too time-consuming to make on an average day–especially when the responsibilities of writing and motherhood leave little extra time for complicated cooking. And that's where recipes like this sleep-over coffee cake come in handy.
My husband and I had some friends over to watch the Seahawks game on Sunday morning, and when planning the breakfast menu, I needed items that would be quick and easy to prepare with little effort required on the morning of the event. So the night before, I hard-boiled a bunch of eggs and stirred together a coffee cake that would sit, chilling, overnight, only needing to be baked the next morning.
In addition to being prepared the night before, the cake's batter also comes together quickly and easily. All the ingredients are stirred together at once; there's no creaming the butter and sugar then adding eggs followed by flour here!
I'd encourage you to file this recipe away for those times when you want something special to serve your family or friends, even if you're on deadline. I promise that it'll take you no longer than 15 minutes to prep the night before, and no more than 5 minutes active time in the morning. Serve on a pretty plate with some fresh fruit and your guests will be in for a special treat.
Sleep-over Coffee Cake
This coffee cake–adapted from Simply Classic: A New Collection of Recipes to Celebrate the Northwest, from the Junior League of Seattle–looks rather simple, with a deep brown color that's consistent from the cake to the topping. If you want a little more of a crunchy topping, I suppose you could increase the amount of nuts, but I like it just the way it is. While I'm at it, let me just say how much I love this cookbook. My mom gave it to me some years ago, and it's one of those books that I feel confident in, knowing that virtually every recipe is going to turn out great.
Cake
2 cups flour
1 cup sugar
1 cup buttermilk
2/3 cup butter, softened
1/2 cup brown sugar
2 large eggs
2 tablespoons dry milk powder
1 tablespoon cinnamon
1 teaspoon baking soda
1 teaspoon baking powder
1/2 teaspoon salt
Topping
1/2 cup brown sugar
1/2 cup walnuts, chopped
1/2 teaspoon ground nutmeg
1/4 cup butter
The night before: Put all the cake ingredients in the bowl of an electric mixer, and mix at low speed until combined. This might take several minutes. While it's mixing, butter and flour a 9-by-13-inch baking pan. Pour the batter into the pan and spread it evenly throughout the pan with a spatula. Combine the brown sugar, walnuts, and nutmeg in a small bowl and sprinkle over the batter. Cover and chill overnight.
The morning of: When you wake up in the morning, preheat your oven to 350 and melt the remaining 1/4 cup of butter. Pour the butter over the top of the coffee cake and slide the pan into the oven. Bake for about 30 minutes, until the cake is a rich brown and a toothpick inserted in the center comes out clean.
Serves 8-10.