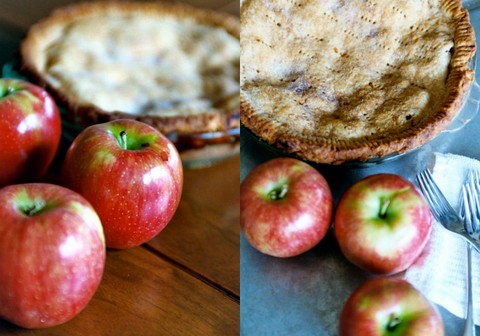 In one simple pie, the writer finds a bottomless source of memories and inspiration. Apple pie has been around since at least the 14th century, with a recipe from 1381 still available. It's taken multiple forms across cultures, from the French tarte Tatin (Molly Wizenburg's recipe is a winner) to the classic American version.
All it takes is a little imagination to conjure up one of the Tatin sisters trying to whip up something to serve their guests at their hotel in France's Loire Valley, only to make a rather delicious mistake that we now call tarte Tatin. Their story is enough of a legend, with various versions of how the mistake came to be, that a writer can almost picture Caroline and Stephanie running around in a frenzy trying to figure out what to do with their mistake before having a lightbulb moment and declaring it a new culinary invention.
As for me, apple pie carries with it the legacy of generations of the bakers–home cooks and professional–who came before me, one of those being my grandma Adeline. Grandma Adeline has a reputation in the family for making one of the best apple pies around. I was honored last month to make one by her side, watching her shape the crust and collaborating with her on how much of each ingredient to put in the filling. We made magic that day, Grandma and I, as we stood side by side–generations apart yet working together on a common goal–putting the ingredients together and then watching as they morphed into something delicious.
That pie is long gone, but the memories linger on. From now on, whenever I bake an apple pie (you'll find our recipe over at Outside Oslo), I'll be thinking of that October evening spent with my dear grandmother. Wrapped up in the crust and baked apples will be countless memories of a woman I adore, and one who has taught me so much about baking and of love. For me, inspiration comes from memories and experiences, and thanks to my dear grandma Adeline, I have no shortage of inspiration from which to draw.
Writing prompt: What memories and stories do you have related to apple pie? Use this classic dessert as a starting place for your writing today; if you're working on memoir, what memories do you associate with apple pie? If you're writing fiction, have your character sit down with a slice and see where his mind goes.