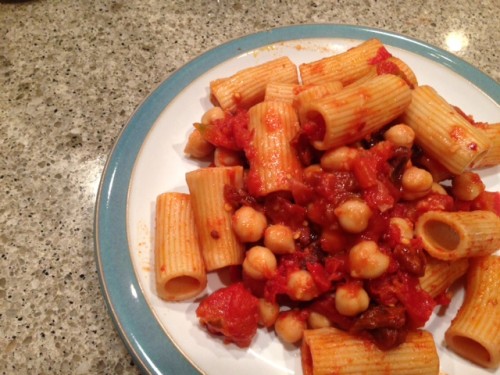 A few nights ago, after returning home from a trip for a travel piece I'm writing, I needed to make a late dinner. Rummaging through the refrigerator, I threw away remnants of meals from the week before consisting of leftovers we didn't have time to eat. Virtually all that was left–aside from the food that belongs to our live-in guest–were the typical fridge staples: jams, cheeses, flours, and the like. In such circumstances, however, a well-stocked pantry means that with a little creativity, there's no excuse to say there's nothing to eat.
I had half a box of rigatoni, a can of diced tomatoes, sun-dried tomatoes, olives, and chili flakes, and that was almost all I needed to put together a satisfying late-night dinner, a veritable midnight snack.
What are your favorite pantry creations?
Spicy Post-Flight Pasta
A Nooks & Cranberries original
1/2 pound rigatoni
1 (28-ounce) can diced tomatoes
6 oil-packed sun-dried tomatoes, chopped
Small handful of Kalamata olives, sliced lengthwise
4 garlic cloves, pressed
Generous sprinkling of dried chili flakes
1/3 stick butter
1 (15-ounce) can garbanzo beans, drained
Cook pasta according to package directions. Meanwhile, bring diced tomatoes to a simmer in a medium saucepan, then add sun-dried tomatoes, olives, and garlic, and continue to cook, turning up the heat to bring to a light boil. Cook for 5 to 10 minutes, until the liquid reduces slightly. Stir in butter and allow to melt, then add garbanzo beans and cook until heated through. Drain pasta and add to the tomato sauce, stirring to combine. Serve.
Serves 3-4.