It's been a few months since our wine weekend in Walla Walla, and we're just itching to go back. As many excellent places that Seattle has for writers, Walla Walla on the far corner of the state is brimming with them too. So far we've told you about Brasserie Four (perfect for brainstorming with your writing partner over a salade Niçoise), the Green Spoon (where you can enjoy fresh and healthy lunch while getting in some good people-watching), and the Colville Street Patisserie (just right for lingering with a laptop and a salty-sweet kouign amann). Now it's time to share with you a wine tasting room that's perfect for jumpstarting your creativity: Walla Faces.
Walla Faces is a multi-faceted brand in Walla Walla, offering wine, lodging at both its vineyard and downtown inn, as well as hosting live music, book clubs, and other events. For the purpose of this article, we're focusing on the tasting room experience.
Food and Drink

Stop in the downtown tasting room and get ready to meet some new friends: Rick & Debbie, Caroline, Frank, and Winnie, or whoever they're pouring that day. That's right, these wines are named after people. And each has a label designed by Walla Walla-based artist Candice Johnson.
Location and Atmosphere
Located in an historic building, the ceiling is just as much a work of art as the colorful paintings and photography hanging on the walls. Depending on the time of day that you stop in, you can experience either a hub of activity and music, or a quiet place to stroll and view all the artful surroundings while tasting the wine selections of the day.
Writeability and Purchased Presence
One of the reasons we've selected Walla Faces for a Destination Inspiration feature is the variety of art forms celebrated here. From Candice Johnson's paintings that grace the wine labels and much of the tasting room's interior to the book club and live music hosted here, there is plenty of opportunity to get some cross-media inspiration at Walla Faces. If you're down the street at a coffee shop and feeling stuck with a case of writer's block, simply pack up and walk down to Walla Faces and take in the surroundings. Perhaps taking a little break and being inspired by other artists will help get you back on track.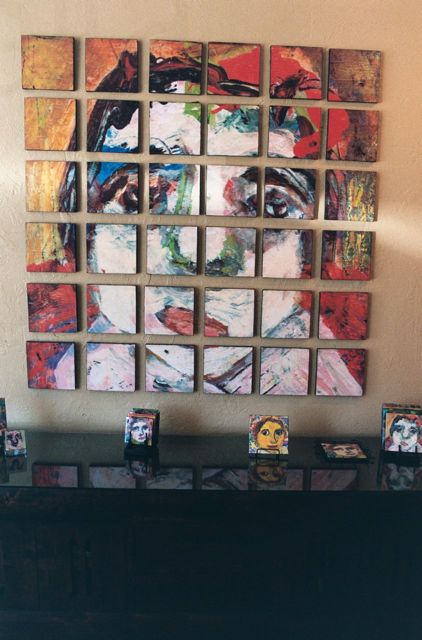 Price
The price for tasting is not much more than a latte at a local coffee shop.
Parking
The tasting room is located downtown, but at one of the further ends, so street parking should be easy to come by.
Writer's Tip
It's de rigour to bring a notebook and pen along while wine tasting so you can take notes on the wine. So bring along your writing notebook and take a little time to exercise your descriptive skills as you jot down notes on what you're experiencing, both in the tasting and in your surroundings.
Find It
Walla Faces Wine Tasting Room & Art Gallery
216 E Main St
Walla Walla, WA 99362
Website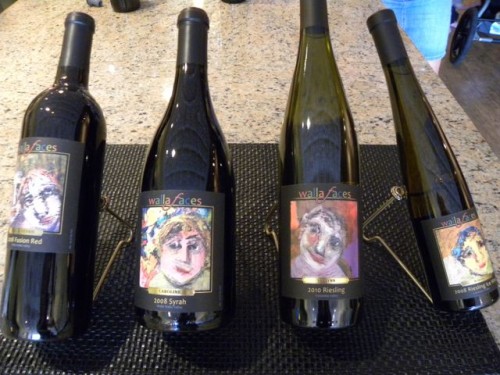 Full disclosure: Walla Faces provided our lodging and tasting during our July visit to Walla Walla.