When it comes to doing some serious writing, sometimes a coffee shop is the best place. They're usually friendly to writers who want to linger for hours, and it's the norm to see people with a latte and a laptop. What makes a coffee shop go from good to great in our opinion, however, is the quality of the pastries. For that, Walla Walla's Colville Street Patisserie is perfect. It is, after all, not just a place for coffee, but a true pastry shop.
Food
We can thank a local winemaker and his wife for telling us about this great place. They raved about the kouign amann (pronounced queen ah-mahn), the salty-sweet, flaky-sticky Breton cake that's reminiscent of a croissant with its flaky layers, but much more decadent. Other treats worth trying include the apricot danish and the potato, pea, and curry turnover. Any of these would go well with an espresso or cappuccino. Also check out the range of gelato flavors while you're there, as well as the case of fine desserts perfect for a special event.
Location and Atmosphere
Situated in Downtown Walla Walla, just a block off of Main Street, Colville Street Patisserie is easy to get to, yet boasts a slightly slower pace than a location on the main drag would give it. Though the stream of customers is steady, it's perfectly acceptable to hunker down at a table with your laptop for a morning writing session.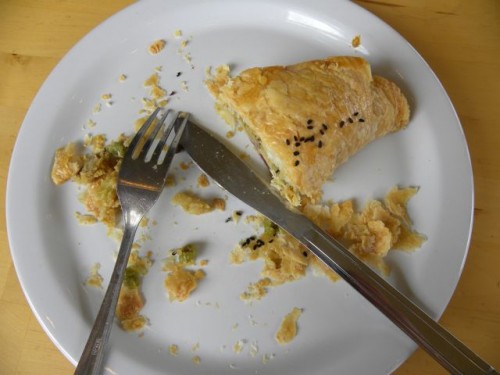 Writeability and Purchased Presence
Colville Street Patisserie offers exactly what you'd expect from a coffee shop, but with the benefit of excellent pastries. There's ample seating, and the steady energy of people streaming in and out is perfect for writers looking for a little people-watching and character inspiration. As we mentioned above, it's a great place to linger. As always, however, be mindful of the Nooks & Cranberries code of conduct: Be considerate to crowds struggling to find a place to sit, and support the local business and order an additional beverage or pastry if you're going to linger a while (we call this "Purchased Presence").
Price
Come in with a $10 bill and you'll likely have plenty of money for a coffee, pastry, and a tip. In that regard, the pricing is typical for coffee shops, only you get a remarkable pastry, and not just a dry, bland, and lusterless one found at many other venues.
Parking
Street parking is easy to come by, or if you're already downtown it's within walking distance from virtually anywhere.
Writer's Tip
Get to know the people working here, and strike up a conversation with the writer sitting next to you. Writing is often a solitary pursuit, and social hubs like this are great ways to get some social interaction. You never know when you'll meet a new friend or come up with a great new storyline or article!
Find It
40 South Colville Street
Walla Walla, WA 99362
Website