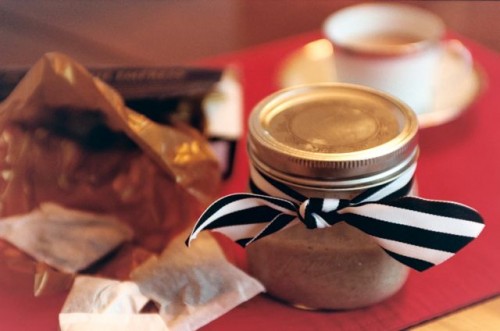 We love nothing more than curling up with a blanket and a book and a hot cup of chai tea on autumn days. It's a good thing that reading is essential work for writers! I made a batch of homemade chai concentrate last week and had it waiting for Sarah when she arrived home from a trip to California to visit family. I highly suggest that you whip up a batch for your own kitchen. The concentrate takes a matter of minutes to prepare, and elevates an ordinary cup of black tea to something creamy, sweet, and spicy–just right for a blustery autumn day.
Homemade Chai Concentrate
Adapted from The Naptime Chef
1 (14 ounce) can fat-free sweetened condensed milk
1 teaspoon demerara or raw sugar
1 teaspoon ground cardamom
3/4 teaspoon ground cinnamon
1/4 teaspoon ground allspice
1/4 teaspoon ground nutmeg
Combine all ingredients together in a jar, stirring well so the spices are fully incorporated. Store the concentrate in the refrigerator. Whenever you're in the mood for a nice, warm cup of tea, simply brew a strong cup of black tea and add 2 teaspoons of concentrate, stirring well. Give it a taste and adjust the quantity as needed. Cheers!
Makes about 1 1/2 cups.