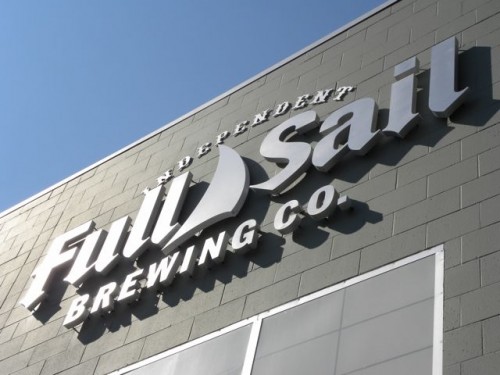 By the time our beer-tasting weekend in Bend, Oregon, came to a close, none of us was ready to leave. Our husbands, babies, and the two of us had had a wonderful weekend together, and heading home just didn't seem right. So we took the long route, heading toward Hood River, which would guarantee a scenic drive with a great destination–Full Sail Brewing Co. That was a perfect consolation to the fact that we weren't ready to return to normal life back home.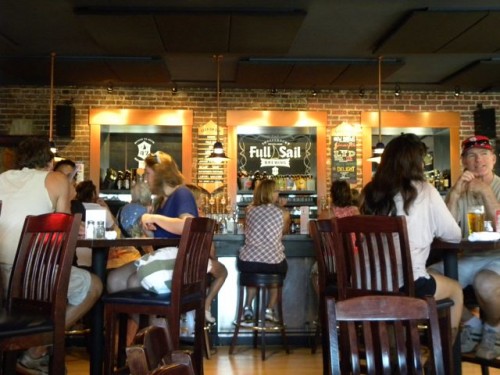 Food
From classic pub fare to more original summer delights, Full Sail is a sure shot when you are unsure where to eat. Here's what we enjoyed that day.
Summer Vegetable Pesto Pasta zucchini, broccoli and cherry tomatoes tossed with rigatoni in our housemade pesto sauce. Topped with parmesan cheese.
Salmon Fish and Chips Session Lager battered wild Alaskan salmon with house made coleslaw and lemon caper tartar sauce.
The veggie salad was perfect on such a hot day! Fresh, firm (not overcooked) vegetables had the perfect coating of pesto. The pesto was light and had just enough flavor to be noticeable but not take over the flavor of the veggies.
The salmon is just what you'd expect. Strong, juicy flavors let you know that the pub didn't skimp on quality. The Session Lager batter lightly coated the salmon almost more like a tempura than a beer batter. We both appreciated that they didn't overdo the batter. It's not uncommon to get a fish and chip plate where the fish is outweighed by the batter. Not at this place!
It may seem strange this far into our brewery trip to not get a beer, but we felt that the best accompaniment to our selected meals would be a glass of wine. And since we are in Oregon, why not try some of the local fare?
A personal favorite part of this meal definitely was the wine.
2008 Winemaker's White Blend by Maryhill Winery, Goldendale, WA
2008 Peace, Love & Chardonay by Springhouse Cellar, Hood River, OR
Both wines were cool, crisp and refreshing with slight, but not overpowering fruit notes.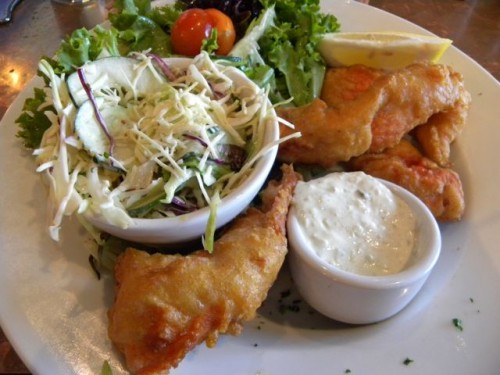 Location and Atmosphere
Overlooking Hood River, the location is definitely part of the restaurant's charm. With windows for walls in the main dining area, the sweeping view of Hood River is breath taking. The atmosphere is busy, however, and seating can be snug. So come with an expectation that you might make some new friends!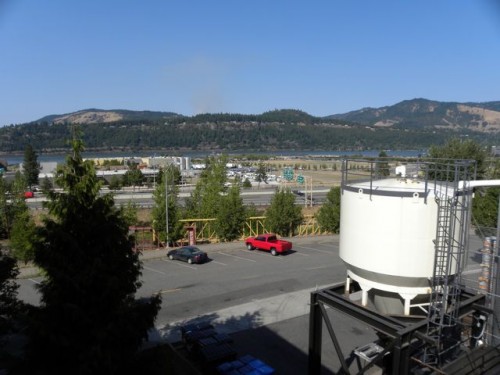 Writeability and Purchased Presence
Come with a notebook and a pen–and ideally a writing partner. You could bring a laptop, but come with a fully charged battery and we suggest doing this only during the off hours as it gets really busy during the rush. This is a great place to gather and brainstorm with friends while enjoying tasty food, quality drinks and a beautiful view of Hood River.
Price: $$
Expect to pay around $5 – 11 for a shared plate, or $10 – 15 for an entree. This is pretty typical of this style of pub and the portions are more than reasonable. This is a brewery, so keep in mind that the drinks are most likely where your money may disappear to.
Parking
Street parking is often available along Columbia Street. But be warned, the street is on an incline, so depending on where you park, you may have an uphill hike ahead of you.
Writer's Tip
There are some restaurants that are great for writing and some that are great for resting. While we always advocate having a notebook on hand, this is one of those restaurants that can be a nice place to just relax with friends, food and a nice drink. A rested writer is a productive writer!
Find It
Full Sail Tasting Room & Pub
506 Columbia Street
Hood River, ORÂ 97031
Website