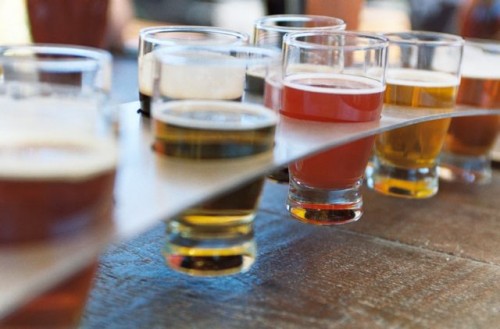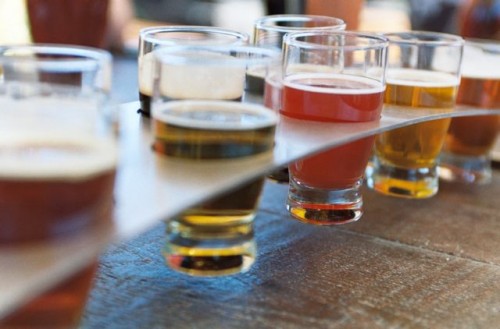 We hope you enjoyed our recent Walla Walla-based Destination Inspiration series. For the next several weeks, we're going to be highlighting some of our favorite spots in Bend, Oregon, where we recently visited for a beer-tasting tour.
Upon arriving at Sunriver Resort about 20 minutes south of Bend on a Thursday evening, we were definitely ready to stretch our legs and unwind. Six hours is a long time to spend in the car, after all. But with two babies and an impending bedtime, we couldn't exactly hit the town. So our husbands set out to find some of the local beers to bring back to the resort. That's when we got our first taste of what 10 Barrel Brewing is up to. We sipped their Apocolypse IPA (and some red wine of course) while watching the sun set and the wildlife roam outside our rooms. It was a great introduction to 10 Barrel's beer, and we were excited to visit their pub the next day.
Food and Drink
Having tasted just one of 10 Barrel's brews the night before, we were ready on Friday morning to head straight from our resort to the company pub for lunch. First things first, of course, we ordered a round of beverages. Sarah opted for a pilsner while Daytona ordered the sampler, which included a taste of 10 beers, including their award-winning S1NIST0R Black Ale and Apocalypse IPA.
As for the food, we were pleased with our orders ranging from fish and chips to caprese salad and steak nachos. Any time a restaurant has a caprese salad on the menu, it catches our eyes. However, this classic salad can range from bland and watery to nothing short of spectacular. The caprese at 10 Barrel fell somewhere in the middle, with too much emphasis placed on a mediocre dressing, and no ingredient really standing out as superb. The steak nachos, however, were amazing. The fish and chips were good too. And so was the beer. With the family-friendly approach to dining (all ages are welcomed until 11pm), we'd come back frequently if we were locals.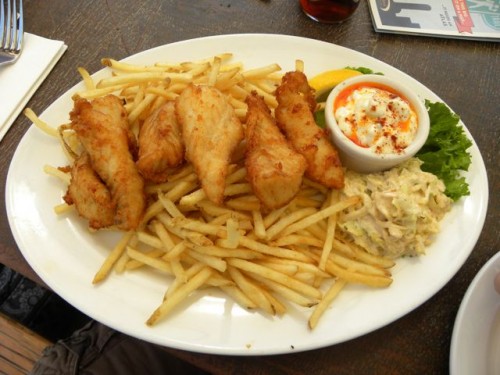 Location and Atmosphere
If you're lucky enough to be visiting Bend when the sun is shining, don't miss the patio here. The patio has the feeling of a really nice backyard party, with happy, laughing people and great food all centered around a big enclosed fire pit. The atmosphere is light and uplifting. This place is family friendly, with kids being welcome until 11 pm.
Writeability and Purchased Presence
This is the sort of place you visit with your writing group or a writing partner. Bring a pad of paper, leave the laptop at home. Be jovial. Have fun.
Price
The pricing is about average for this quality of pub fare with appetizers starting around $8 and main entrees running between $10 – $15. Their fresh made pizza pies run between $11 – $24. And of course you can't miss trying out some of their beer!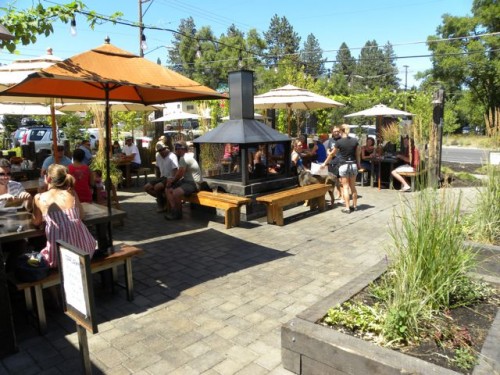 Parking
Plenty of parking is available in the lot.
Writer's Tip
Practice your beer tasting descriptions. Being the foodies that we are, our focus is often on the food. But for this trip we switched gears to center our writing energy on the beer. With a writing partner or group, order a sampler and try your hand at beer tasting. Without looking at the bottle or drink menu, try writing your own description and see how close it matches up.
Find It
1135 NW Galveston Building A
Bend, OR 97701
Website
*This meal was provided to us courtesy of Central Oregon Visitors Association.