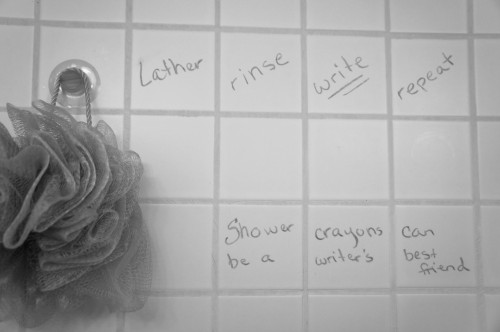 Have you ever had so many things to do that you didn't know where to start? Lately that's been happening to me in terms of writing. I've had so many ideas swirling in my head that I just didn't know what to write down first! I felt literally paralyzed.
Earlier this week I decided to grab my notebook and pour my brain out onto the page. It was hard. I stuttered. I strained. Finally, I had a list started. Why was that so difficult?
It is like a new breed of writer's block. For me, in this case, it was matter of organization and worrying about capturing every little thought before it got pushed out by another. I was so afraid I'd forget something that my brain was blocked up with everything trying to get out the door at once.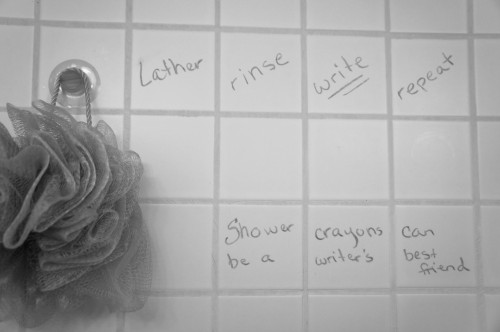 After I took a breath and looked at my list, I started thinking of ways that might make the 'un-blocking' process easier.
1. Talk to a friend. If you are unsure where to start, see what idea seems to be swimming at the surface. What topic do you find yourself talking about the most?
2. Read. Read. Read. Your subconscious has a way of letting you know what is most important. Start reading and as you find your mind wandering, jot down a key word or phrase to capture that thought and get back to reading. Do this every time your mind strays from the text. After you've finished a couple chapters, look at your list and see what themes emerge. Pick the primary theme as your starting place.
3. Purchase shower crayons. I love these! You can often find them in the toy or stationary aisle of your local store (or on Amazon of course). The shower is often my think tank and it really helps to be able to write down ideas they second they pop into my head.
4. Go for a walk. Fresh air and blood circulation really help untangle all the ideas bumping around the brain. Bring a notebook of course and before you know it you may be perched on  the curb, jotting everything down.
5. Go somewhere. Sometimes it's a matter of getting out. At N&C we are huge advocates of finding inspiration in all kinds of places. Check out some of our Destination Inspiration locations for ideas of where to go to unclog your brain.