Having home-brewers for husbands means that we're never in danger of being in a new city and not knowing where to find good beer. Take San Francisco, for example. Until a few weeks ago, Daytona hadn't been there in five years, and although Sarah still visits her family in the Bay Area from time to time, it's been over a decade since she moved away. Yet on our recent weekend together, as our first afternoon in the city drew to a close, our husbands whisked us over to 21st Amendment Brewery in the city's historic South Park neighborhood for a pre-dinner refresher.
Food and Beverages
We'll be honest, we came here for the beer not the food, even though it is a brewpub and we could have eaten if we wanted. But having enjoyed a great lunch earlier at La Boulange and having dinner plans with Sarah's family, we stuck to our mission and ordered beverages. That is, after all, what 21st Amendment Brewery was founded upon.
Daytona's choice, the South Park Blonde, was refreshing and light yet flavorful, with a friendly wheat profile. The Red Dwarf IPA, which both of the men ordered, was described as "A red IPA with caramel and Munich malts combined with Simcoe and Amarillo hops, like peeling an orange in a redwood grove." Sarah chose a cider from the Two Rivers Cider Company.
Location and Atmosphere
Near the financial district and San Francisco Giants baseball park, we can only imagine that 21st Amendment is a favorite stop before and after work and games. The atmosphere is light and almost lodge-like with lots of wood and warm colors. The chalk art on the walls and the menu is also really impressive!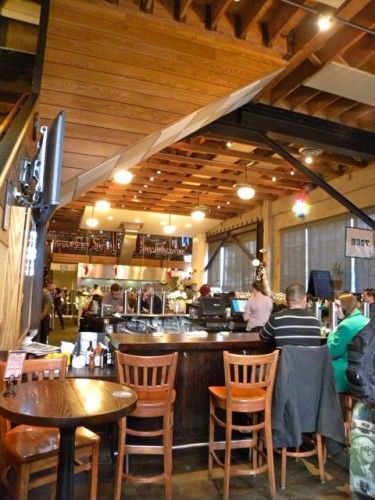 Writeability and Purchased Presence
It takes little than a pint apiece to add a sense of camaraderie to a gathering, which makes 21st Amendment a great place to meet your writing group after a day at work. Sit back and enjoy the convivial atmosphere as share your successes and what you're writing on at the moment. As long as no one's waiting for your table, feel free to linger.
Price: $$
The price is just what you'd expect from a brewpub, with draft beers ranging from $5.50 to $6.50 for a pint of most beers.
Parking
We had no problem finding street parking, on what seemed like a pretty slow afternoon. It was New Year's Eve, after all, and at an hour too earlier for dinners and parties to begin.
Writer's Tip
There is a history behind 21st Amendment that makes it a ripe place for brainstorming with your writing partner, possibly about a story that could be set during Prohibition. Whether or not your story has anything to do with historical references, there's nothing like gathering with friends over good beer. (http://21st-amendment.com/the-company/)
Find It
21st Amendment Brewery
563 2nd Street
San Francisco, CA 94107
Website