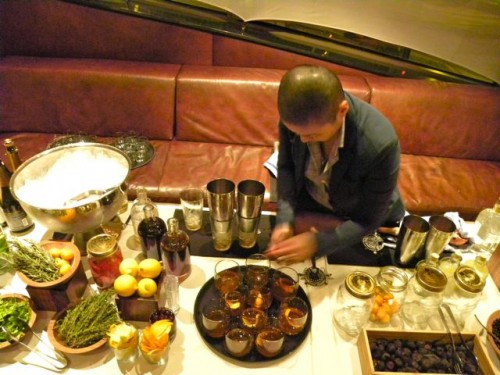 Spoiler alert! If you've invited me to a holiday party between now and the new year, stop reading right now. I'm about to tell you what I'm giving you for your host/hostess gift.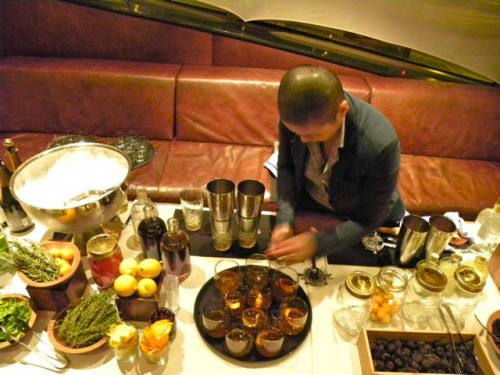 There. Now we can get down to business.
Christmas is less than a week away, and party season is in full swing. I don't know about you, but no matter how much I try to plan ahead, I always end up caught off guard by how quickly the time passes by and how all of a sudden I need a host/hostess gift to bring to a party that's just a few hours away.
The good news is that I recently learned how to make a lovely and personal gift in a matter of minutes from BOKA restaurant + bar's Chief Mixologist, Mi-Suk Ahn. I was invited to attend a Holiday Infusions Class last week as part of Hotel 1000's Holiday Throwback schedule of events, and I came away with wonderful ideas for making liquor infusions.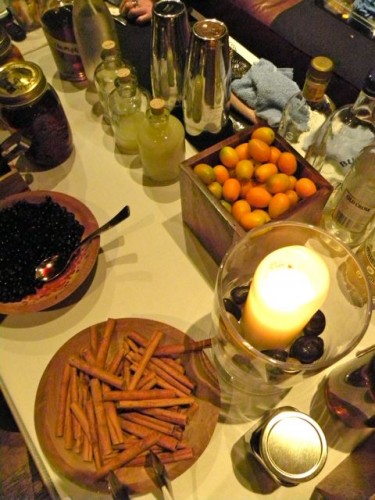 I've made infusions before, as the concept is not exactly new, but our host and teacher took the idea to the next level for me. While in the past I followed recipes for things like limoncello or fumbled my way though trying to recreate a dill aquavit I enjoyed in Norway several years ago, I now have a wealth of ideas in my head for how to incorporate leftover herbs or fruits that are lingering in my refrigerator into infusions customized for any number of palates.
In a nutshell, all it takes to make an infusion is a glass jar or bottle, the spirit of choice, some herbs or fruits, and a little bit of creativity. At the end of the class, Mi-Suk helped each attendee create an infusion to take home and enjoy. I wanted to make something that a Scotch aficionado might enjoy, so Mi-Suk suggested using a base of whiskey or brandy (I went for the Old Crow) and infusing it with pear, Meyer lemon rind, and rosemary. After a few days of infusing, the pear was ready to remove, while the rosemary needed to steep a little longer. I think my infusion will be perfect in about a week.
This past weekend I placed half a pomegranate, a vanilla bean, and a cinnamon stick in a large canning jar and filled it with whiskey, wrapped the whole thing in a pretty Christmas dishcloth, and tied it with some twine to bring as a host/hostess gift to a Christmas party. With some simple instructions for how the recipients were to tend to their infusion over the next two weeks, it was a beautiful gift with a personal touch. I think I'll be bringing a jar of a homemade infusion to every holiday party this season!
For a full schedule of Holiday Throwback events, contact Hotel 1000.
Disclosure: I attended the class as a guest of the hotel and my ticket was complimentary.