Yesterday we covered last-minute host/hostess gifts, and today we have the answer to what to bring to a potluck when you're strapped for time (perfect for when you're on deadline!). Served with baguette slices and endive leaves, a Caesar salad-flavored dip will be a hit. And who wouldn't enjoy the salty, briny flavors of baked feta cheese topped with warm olives? Keep reading for the recipes–complete with a last-minute trip the grocery store, you'll have both recipes ready about two hours from now!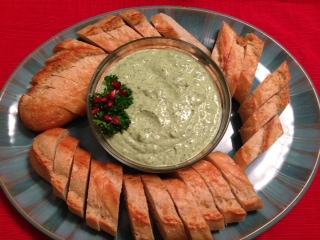 Caesar Cream
Adapted from Simply Classic
2 garlic cloves
1/2 cup grated Parmesan cheese
1/2 cup packed fresh parsley
6 canned anchovy fillets
3 tablespoons freshly-squeezed lemon juice
1 cup sour cream
Sliced baguette, for serving
Endive leaves, for serving
Combine garlic and Parmesan cheese in a food processor until combined. Add parsley, anchovies, and lemon juice, and process until the mixture takes on a paste-like consistency. Turn into a bowl and fold in sour cream until combined.
Serve with baguette slices and endive leaves.
Serves 12.
Sexy Baked Olives & Feta Cheese
Adapted from Dishing with Kathy Casey
1 1/2 cups mixed imported olives, pitted and drained
1 tablespoon fresh thyme leaves
2 teaspoons grated lemon zest
1/4 teaspoon dried red pepper flakes1 teaspoon fennel seeds
2 tablespoons extra virgin olive oil
1 thick 8-ounce piece of feta cheese
Pita chips, for serving
Preheat oven to 400 degrees F.
Combine all ingredients except cheese and pita chips in a small bowl. Lightly oil a medium-sized cast-iron skillet and place the cheese int he center. Top the cheese with the olive mixture, taking Kathy Casey's advice to use a spatula to scoop out all the oil and seasonings.
Bake for 20 minutes and serve out of the pan with pita chips.
Serves 10-15.