We had some pretty amazing food and beverages during our recent trip to San Francisco, but visiting Tartine was the icing on the cake. After packing the suitcase and saying goodbye to Sarah's parents, Daytona's hosts for the trip, the two of us set out with our husbands and sons to taste for ourselves what makes Tartine so legendary.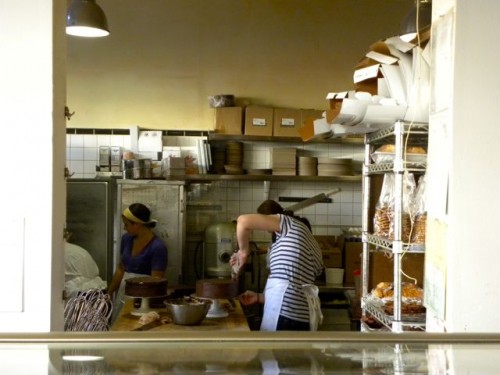 Food and Beverages
Huddling together while sharing the menu as we inched along the line, which started outside and worked its way down the entire pastry case, we contemplated how to best experience all that Tartine has to offer. The crowded space had no empty tables, and even if one were to open, it would be impossible on such a busy day to fit four adults and two toddlers in strollers or high chairs inside. We were pressed for time, anyway, as Daytona had a flight to catch, so we each opted for an open-faced croque monieur to take to go, along with an assortment of sandwiches. While the men were shopping at the nearby Self Edge, a table for two opened up, so the two of us sat down, ordered a couple of glasses of the house red–a Cotes du Rhone–and toasted. It was New Year's Day, after all.
The owners–the husband-wife team of Chad Robertson and Elisabeth Prueitt–were nominated twice for James Beard Award for Outstanding Pastry Chefs before winning it in 2008, and its no wonder. Everything we tasted was nothing short of spectacular. The croque monsieur was served open-faced on an inch-thick slice of Tartine's bread, and dressed with just the right amount of toppings to round out the meal without overshadowing the bread. Shiitake mushrooms added a savory touch to the sandwich. The quality carries over to the pastries, too, with the chocolate salted rye being a particular favorite (Daytona even experimented with trying to recreate the cookies after returning home). The frangipane tart, filled with blueberries, was lusciously moist and flavorful, even the next day after surviving the return flight to Seattle.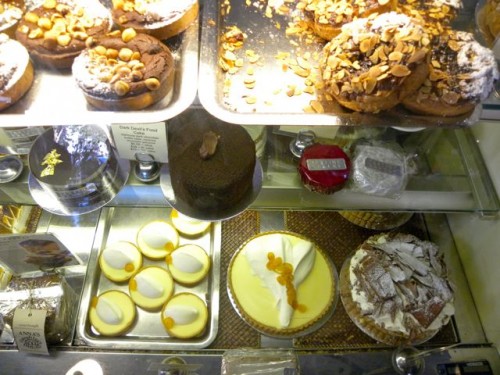 Location and Atmosphere
Driving to Tartine, it was evident where the destination was located because of the tell-tale line queuing in front. The Mission District is not only home to Tartine but also to many great shops and restaurants including the birth place of the original Mission style San Francisco burrito. With great pastries and great Mexican food, you know this is one busy neighborhood!
Writeability and Purchased Presence
When we were here on New Year's Day, the bakery was packed. It was difficult even to stand in line without feeling our personal bubble being burst by an enthusiastic patron ogling the items in the pastry case. When we finally did place our order, we were lucky enough to have a small table open up, which we snatched up immediately. On a less-crowded day, this would be just the place to sit sipping a cappuccino or perhaps a glass of wine while savoring a sandwich and jotting down character sketches from our people-watching. But on a crowded day in which demand is high, it's best to be respectful of the other customers and make your table available once you finish your order.
Price: $$
Pastries start at around $4.00 and sandwiches $12.00. It's on the higher side of pricing, but absolutely worth it.
Parking
Expect to drive around the block a time or two to find a place; if you don't mind walking a little, grab the first spot you see in the vicinity and explore the neighborhood while you're at it.
Writer's Tip
Give yourself a goal–a word count, perhaps, or to put the finishing touches on an article–and use a visit to Tartine as an incentive. If you meet the goal in your given timeframe, you get to treat yourself to whatever you want at Tartine. We're confident you'll succeed.
Find It
Tartine Bakery
600 Guerrero Street
San Francisco, CA 94110
Website