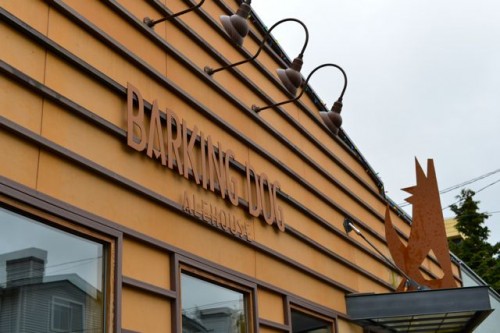 Now that the holidays are over and the new year is in full swing, we're settling back into a routine. As much as we love checking out potential Destination Inspiration spots in other parts of the country, including the San Francisco series we just wrapped up, we're enjoying frequenting some local places once again. What better place to start than the Barking Dog Alehouse, a truly family-friendly spot that's perfect for a writer looking for a place to relax and unwind while working on a story draft?
Food and Beverages
Known for its selection of Belgian and micro beers as well as their Scotch, the Barking Dog is a great place to discover a new brew. If you prefer wine, they also have a carefully-chosen selection that's sure to fit your palate.
The menu at Barking Dog doesn't change much, but it has great variety (and the specials are always unique and seasonal). Always rich and filling, the selection runs from hearty salads and hand made, stone baked pizzas to burgers and gourmet meatloaf and brats.  As often as we visit this restaurant we are never tired of the menu. In fact, we have found that the reliability of the menu tends to create cravings. One afternoon you may find yourself saying, "I could really go for a Barking Dog chicken quesadilla right now!"
Location and Atmosphere
Located in a residential area that could be called northeast Ballard, west Greenwood-Phinney, or whatever you like, this truly is a neighborhood hangout.
When there is a great family-friendly restaurant, word gets out. Come dinner time, this place is bustling with patrons and their families. Sarah has used the Barking Dog as a writing location many times and has found that the best time to get work done is just before the rush, then put away the laptop and pull out the pen and pad for character notes. The atmosphere is very comfortable and easy to relax in and stay a while. There are several small tables by the windows and a few booths that are easy to tuck into for a writing spell.
Writeability and Purchased Presence
The relaxed atmosphere makes a writer feel at home. As long as no one was vying for a table, we'd have no qualms sitting at one of the tables against the walls for a few hours with a laptop and notebook, drafting an early outline for our novel or doing research for an article. Of course, we'd make sure to keep ordering snacks or an additional beverage throughout our stay to be polite.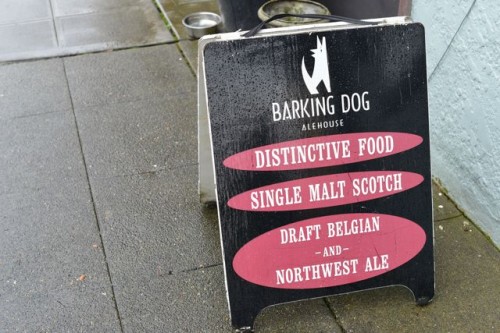 Price: $$
$4 for an imperial pint (20 oz) during happy hour ($5.50 regular), which is about average and $6 buys you a very healthy pour of their house red wine. Entrees range $10 to $12.
Parking
Located in a neighborhood, there's plenty of street parking around, as long as you don't mind driving a couple of blocks to find a spot.
Writer's Tip
As we mentioned above, this place can get very busy. So to really get down to business, come during lunch time or before the rush on a Saturday and cozy up in a booth or by the window with your laptop. Order a nice glass of wine or a cold beer and stay a while. Another perk to the Barking Dog is the awareness of their staff, they are really good at sensing when they are needed and when you need to be left alone. So get comfortable and dive in, you may be surprised at how much you can get done before the rush!
Find It
705 NW 70th Street
Seattle, WA 98117
Website