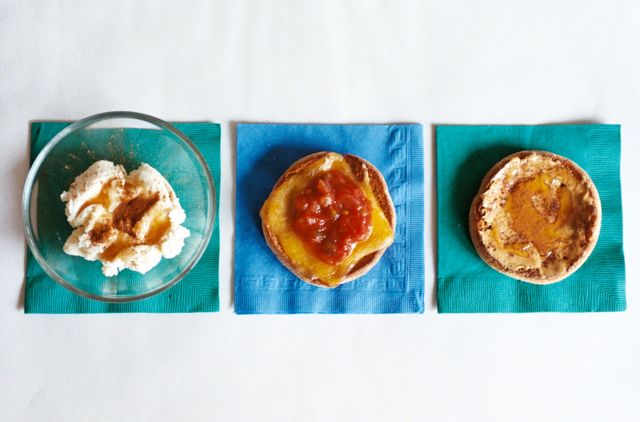 I suspect we all have some strange snack habits, those food combinations we make when we're feeding just ourselves and want something nourishing created for our palate alone, and in a matter of minutes.
That was my experience during a recent afternoon writing session. With my husband at work and my son asleep for what I hoped might be a two-hour nap, I heated some of the morning's coffee in the microwave and got to work on my writing snack: creamy ricotta cheese swirled with a substantial yet moderate squeeze of honey and a good shake or two of cinnamon. There's something about this combination that I love, yet I can't be sure that anyone else's tastebuds would be equally delighted. After all, it feels almost incomplete, as people don't usually sit down with a bowl of cheese and eat it without something else. But for me it's just right.
There was also a time when I would pop a piece of bread in the toaster oven day after day and smear the hot, crispy toast with peanut butter before drizzling it with honey and giving it a sprinkle of cinnamon, and perhaps adding some sliced bananas. And don't let me forget about the bread equivalent of buttered noodles: toast made with artisan bread and topped with butter and a dash of salt and a hint of flavor from my spice drawer, such as paprika or cumin (yes, that sounds strange, but it was a way of getting to know the flavors of various spices).
When I was pregnant and needed to ensure I was heating well enough for my growing baby despite a limited appetite, I would buy packages of whole-grain, fortified English muffins and toast them a bit before melting a layer of cheddar cheese on top and then adding a spoonful of salsa.
I suspect that most writers have go-to snacks like these that are quick to prepare but nourishing and customized to their palates. What are yours?