Neither one of us work in Downtown Seattle, but if we did, we'd be at Belle Epicurean more days than not. This charming patisserie makes us think about being in Paris, which is fitting since its founder, Carolyn Bianchi Ferguson, studied at the renowned Le Cordon Bleu in Paris.
The checkered floors and marbled tabletops, white bistro tables outside and the delectable pastries are just right for inspiring creativity, and we can imagine ourselves sharing a cup of coffee with Hemingway or Fitzgerald.
Food and drink
Don't miss the brioche buns, particularly the bun of the month. One memorable monthly special was coconut cream with coconut flakes, nutmeg and rum. The brioche buns have a savory bite but are not salty. Nor are they too sweet. They have good texture: They're flaky, crispy, dense to the right point, moist, and have just the right amount of fluffiness. They're a good companion pastry, and we suggest ordering one with coffee and breakfast, or as an afternoon snack with an espresso or cup of tea. Or if you're looking for something more substantial, take a look at the lunch menu.
Location and atmosphere
The style is French sophisticated, with tiled checkerboard floor, tapestry, and gilded frames. Grab a seat toward the back, near the entrance to the Fairmont, if you're looking for a peaceful spot that's tucked away. We prefer the bar tables by the entrance, which offer a window to the outside world.
At 2 pm on a Saturday when we were there, it wasn't too busy. There were a few people inside who cleared out pretty quickly. We seemed to be the only ones lingering. The music was light, and varied from jazz to smooth rock and oldies. Other ambient noise came from the hum of the refrigerated pastry cases, the chiming bell when people entered, and happy welcoming hellos. Overall, it has just the right amount of bustle for someone looking for some destination inspiration.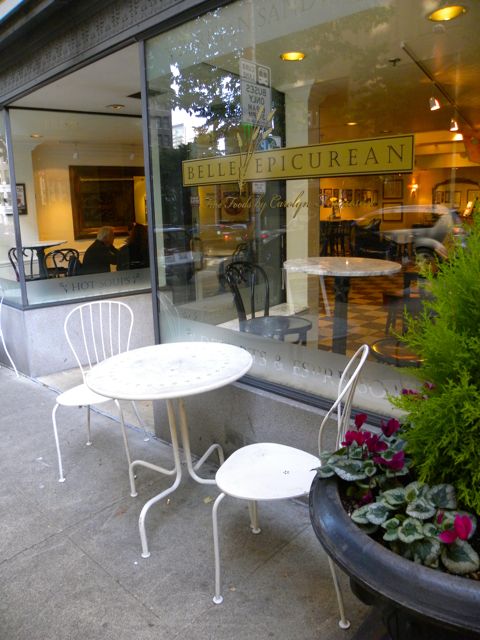 Writability
With small tables, this is a good place to come solo, as you can't spread out. Or bring a writing partner and a pad of paper for brainstorming. We can't imagine spending more than a half an hour to 45 minutes writing here, so we'd recommend leaving the laptop at home and opt for the pad of paper.
Purchased presence
This being a lunch spot as well as patisserie, we'd say let your order dictate how much time you spend. If you're just coming for a cup of coffee and a pastry, you probably won't want to spend as much time as if you were ordering lunch. In a nutshell, use your common sense and courtesy.
Price: $$

Parking:
Street parking and nearby garages. Expect to pay.

Writer's tip
There are no apparent outlets, so if you bring your laptop, come fully charged. Or just bring a pad of paper.
If we worked downtown, we'd love to take a break and walk a few blocks here in the fresh air, then come here and enter another world for a while.
Find it
Belle Epicurean
1206 4th Ave
Seattle, WA 98101
www.belleepicurean.com