Autumn in Seattle can be beautiful. Despite the requisite dreary days, the sun frequently breaks through, easing us into the new season and the colder months ahead.
This particular Saturday was a sandals and no coat kind of day. Glorious. And when the sun comes out, so do all the Seattleites, taking advantage of every last drop of sunshine.
And what better way to enjoy it than with some macarons from Ballard's Honoré Artisan Bakery? On this sunny Saturday morning at 10:00, there were a couple people in line, ordering macarons–their specialty, in our opinion–and tarts, lattes, and chais. Not bad, considering the popularity of this place. There was one brief moment when no one was in line, and then five minutes later a line stretched out the door. That stream continued the rest of our visit. Someone told us that when the nearby Cafe Besalu is closed, Honoré is packed, and vice versa.
We also noticed a steady stream of families, parents with toddlers and the family dog patiently waiting out front. Macarons (more on them in a bit) are kid friendly with their bright colors and size, a bit bigger than a silver dollar, makes them perfect for little hands and mouths. We imagine the lack of stickiness is also a plus. On this sunny morning we saw several moms sitting in the chairs outside with their kids enjoying the brightly-colored cookies.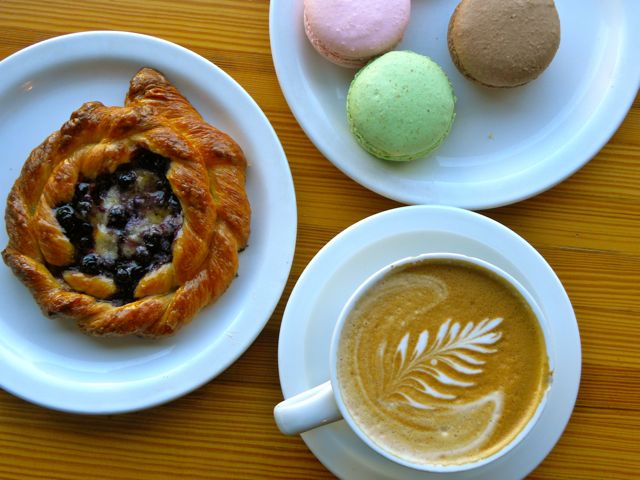 Food and drink
One word: Macarons. They're the star of the show. You'll find normal flavors such as the fudge-like chocolate, raspberry, pistachio and coffee. You'll also come across fun, creative flavors like lavender and chili chocolate.
Biting into the lavender macaron, it's chewy and dense, yet light and airy with a sweet, almost powdery floral essence. The chili chocolate one—bright pink with brown filling—is spicy; they're definitely not holding back on the spice. It's fun. The chocolate is a pleasant intro, then–bam!–you get the spice that warms the whole mouth with its heat.
In addition to the standard assortment of coffee-shop beverages–espresso, cappucinos, steamers, and the like–they serve Dry Soda in a variety of flavors and fresh-squeezed orange and grapefruit juices. The baristas create works of art with the foam, and if you like your Chai on the spicy side, you'll find it to your liking here.
Oh, and don't forget to check out the shelves to the right of the counter. Bring home some locally made honey while you're there.
Location and atmosphere
Situated next to Delancy (one of our favorite places to get a classic pizza pie), Honore is nestled within a residential pocket of resturants and shops; a signature set up for a Ballard business.
Amid the happy sound of espresso, the layered aroma of warm butter in mid-bake, stepping in the door of Honore brings about the anticipation of that special moment when the pastries are pulled out of the oven at the precise instant of golden brown perfection.
The kitchen takes up most of the space, making the public area in front rather cozy. And rightly so. With all the pastry magic that happens in such tight quarters, we expect nothing less than a complete dedication of space and resources to their delicious craft.
Mixing with the aroma of warm flaky crusts is light music. On this particular Saturday it's jazz. It's hardly noticeable with the sound of friendly banter between patron and barista, the chatter of customers, kids playing and espresso machines. It's a happy kind of white noise.
Despit the crowd, it's mellow and laid back, a good place to go on a late morning when you're waking up slowly and want some time to be stimulated by activity but still have space to let yourself think. And while it may seem tight, we have always found a place to sit.
With such a great street presence, our favorite spot in the bakery (besides at the front counter ordering another macaron) is at a window seat where we can sink in to bakery bliss and watch people go by.
This is also the sort of place where you might run into someone you know. Back in January Daytona ran into a writer she knew from work. On this particular morning she ran into an old friend from high school who now lives in the neighborhood.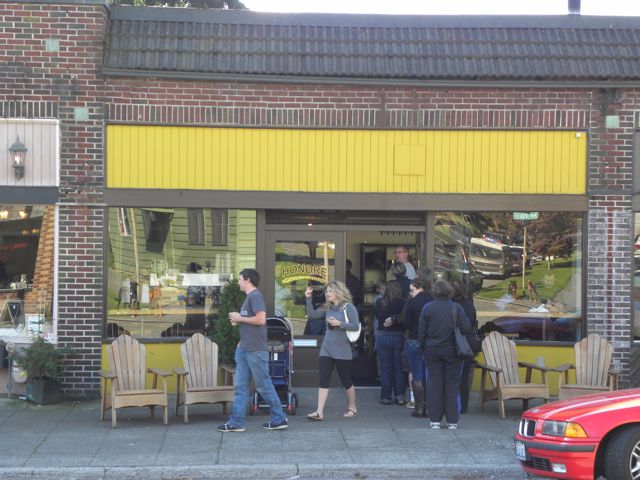 Writability
Bring a paper and pen and come for a short power writing session. There isn't much seating or space, which is why we suggest an abbreviated stay. Inside, the windows are lined with a counter and three stools on either side. Outside there are some adorondack chairs. Not the best place for a critique group session, but great for a quick brainstorm solo or with one or two friends.
Purchased presence
Be courteous and mindful of the crowd, don't stay too long if you see a demand for seats. That's why we suggest using this venue for power writing.
Price: $$
Price: $8.36 tab for 4 macarons, $1.90 a piece
Parking
Street parking only, though if you're lucky you may find a spot right in front.
Writers' tip
High on the family scale, Honoré is a great place to find urban families in action. Working on a fiction piece about an urban young couple with a young child? Come here and take notes. Writing an article and need quotes from someone who fits that demographic? Come here with your tape recorder.
Find it
Honoré Artisan Bakery
1413 NW 70th St
Seattle, Washington 98117