If we were going to choose any city in the country that would feel the most like our Seattle home, it would have to be Portland. It's familiar enough, yet has its own distinct character, making it a great spot for a writing getaway. On a sunny Thursday in June, the two of us hopped in Sarah's car and drove down I-5 for a day-long adventure in Portland.
After asking around for a great bakery or cafe, we walked through the doors of Pearl Bakery, a spot where locals told us other cafes get their pastries from. So, it must be good, right? We were pleasantly surprised–on a number of levels.
First, the shortbread was moist and crumbly and dense and perfect (we're all about food, after all). Second, the setting–from the lighting, music, furniture arrangement, and overall ambiance–made for a great writing spot. So, with that, welcome to Nooks & Cranberries and our first Destination Inspiration post.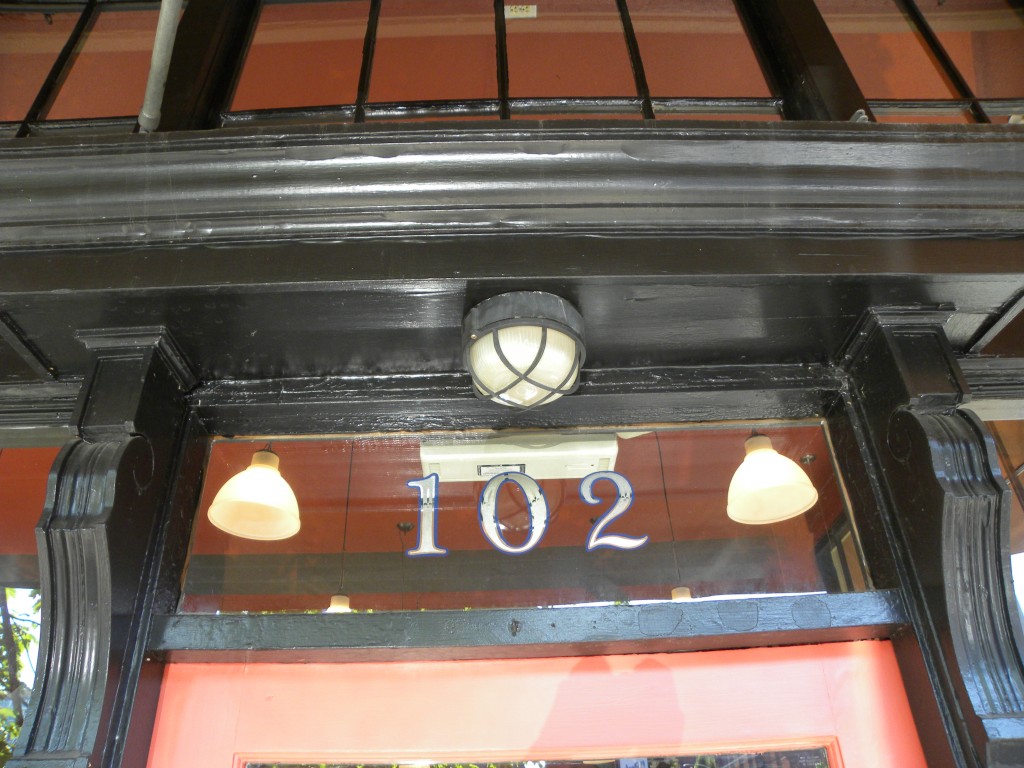 Food (first things first–writers need fuel to get them started)
We're quite spoiled. Our hometown of Seattle is packed with delicious pastries, from the buttery, gooey twice-baked chocolate croissant at Bakery Nouveau (more on that in a future post) and the pain au chocolate at Cafe Besalu (OK, more on that, too). After tasting such marvelous baked creations, we've both come to the conclusion that it's just not worth wasting calories on less-than-delicious treats. So with that, Pearl Bakery had to work hard to impress us.
The brownie, while nothing unique, was moist and chocolately, just as a brownie should be. However, it lacked the complexity and depth of a true artisanal pastry (although the raspberry was a nice touch). The shortbread, however, was spectacular. It exceeded our expectations with its crumbly texture that was moist, yet fell apart in the mouth with a delicate burst of salt and a smooth, buttery finish. Soft toward the middle, crispy toward the edges, the shortbread was neither too rich nor too dense. Yep, it was perfect. Lighter than a cookie yet denser than a cake, it could be considered the pound cake of shortbreads.
Sarah's chai was exactly what one would expect from a cup of chai: the right amount of spice and sweetness. While nothing unique, outstanding, or noteworthy, it was a solid and traditional version that one can likely expect consistency from. It gave the impression that if Sarah were to order a second cup, she'd get the exact same thing. Come to think of it, that was also the case with Daytona's cappuccino.
By the time we arrived in mid-afternoon, some of the shelves and spaces in the display were empty, indicating that items had been picked over. Breads and pastries must have already flown off the shelves. We weren't surprised, though. Just take a look at these carrot cupcakes with cream cheese frosting and candied lavender that Patrick and Ian are holding (below). Mouth-watering, right?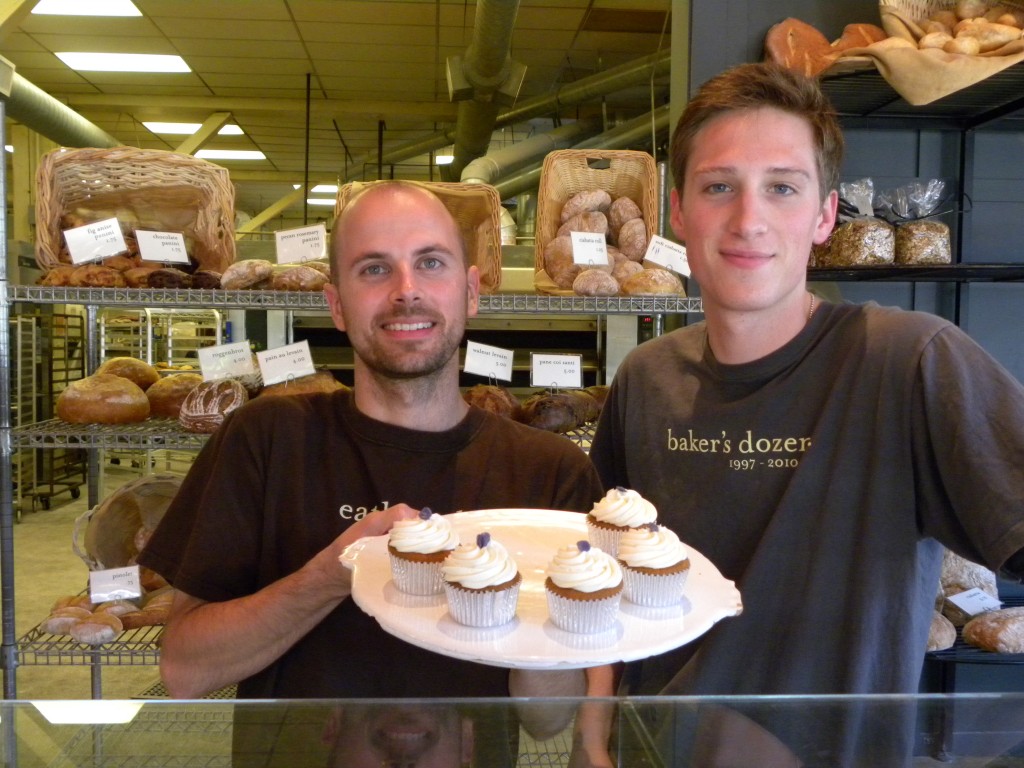 So, what does this have to do with writing, you might ask? Everything. Nooks & Cranberries is all about finding inspiration everywhere, from the pillow-padded bay window where you curl up with a journal to the coffee shop you hole up in with a laptop and earphones. But not just any coffee shop will do. If the pastries aren't delicious, if the coffee is stale, we wouldn't be in the mood to write; would you?
Location and atmosphere
In the Pearl District, at the corner of NW 9th Avenue and NW Couch Street, this gem is just blocks from Powell's books, Diesel and one of our all time favorite stores, Anthropologie. Ample indoor and outside seating.
The atmosphere is Tuscan cottage meets Parisian café. Decorated with baguettes and other breads, a rustic wheat wreath, plus white hexagon tiled floor and pendant lights in white and art glass blue.
There is bar seating along sweeping windows and table seating framed out by single,  small pane warehouse windows. The high ceilings studded with pendant lights provide an open, airy atmosphere and, on a warm summer day, a lot of sunlight. This can be a good thing, but as my grandma used to say, all good things in moderation. After sitting in a warm sunshiny window and soaking it in…one may want to move as the heat becomes oppressive and the glare can make it hard to see your laptop screen.
The music is good for writability. It's instrumental, classical, like what one would find on KING 98.1. On this particular day, the air was filled with something like Vivaldi's Four Seasons. Very low key.
It's a great place for meetings, whether you're meeting for business or coming for an interview.
Despite visiting an hour or so before closing time, the bakery was clean and well kept, including the kitchen, which you can see into and observe the inner workings of the shop. Overall, it's a clean, very transparent place, without seeming exposed or flashy.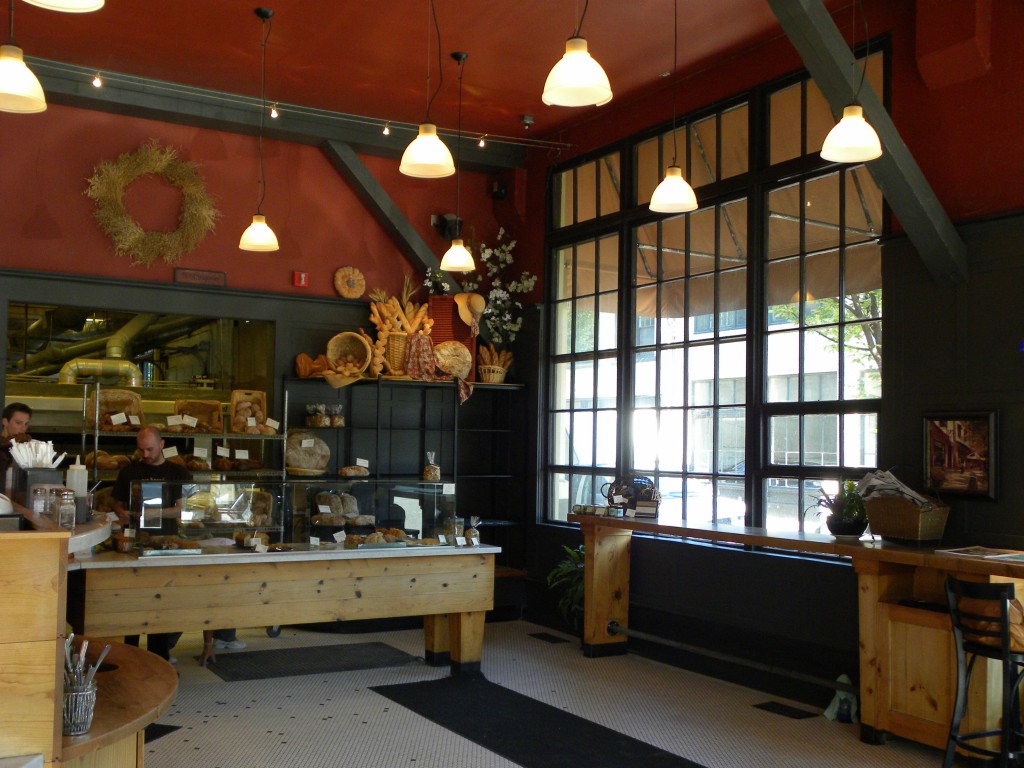 Purchased presence
These people are gracious and welcoming. We feel you wouldn't feel any pressure if you bought one drink and stayed here an afternoon. But then again, why not order seconds and tip well? After all, service is great and the baristas are friendly. No wonder Pearl Bakery seems full of regulars.
Price: $
– Shortbread – $1.50
– Brownie – $2
– Chai – around $3
– Cappuccino – around $3
– Totals: $5 or less per person, plus tip. Reasonable, no? After all, you don't want to spend your entire advance on coffee and treats, do you?
Parking
Plenty of street parking, plus a parking lot across the street, which look like a paid lot (wonder if they validate or let customers park free?)
Writers' tip
Come fully charged–outlets may be hard, if not impossible, to come across.
Find it
Pearl Bakery
102 NW 9th Avenue
Portland, OR 97209
www.pearlbakery.com