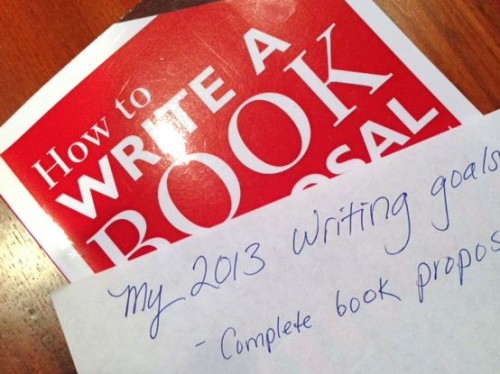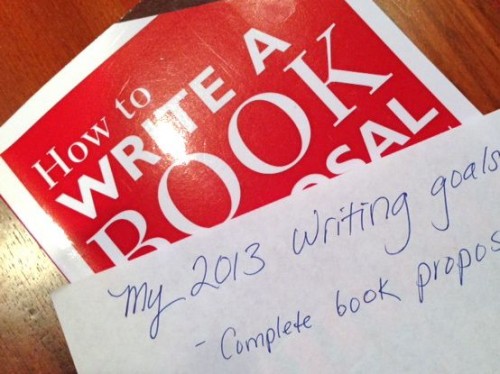 The New Year is always about a fresh start, an ability to think about goals with a clean slate and a renewed belief in one's ability to actually keep a resolution going for the next 365 days. I love the optimism that the new year imbues us with, don't you? Here at Nooks & Cranberries, we're striving to help you keep your writing goals in 2013, so we'll be talking a lot about them over the next few weeks. To start, it's time to set some goals! What do you want to accomplish as a writer in 2013? In concrete terms, what bylines do you want to acquire by December 31, 2013? How many short stories do you want to write? Do you have a personal essay you're trying to get published? Is there a magazine you're dreaming about writing for? Do you want to begin writing about a new topic? Or how about landing an agent or book proposal?
My list of goals is still a work in progress–and to be honest it's always evolving, but here are some of my writing-related goals for 2013:
Complete an enticing book proposal for my food memoir
Increase the number of publications I write for, particularly involving parenting, food, and all things Scandinavian
Put the finishing touches on my home office, which is where I aim to do most of my writing
Build a professional writer's website
Get into a good blogging groove–I have three of them so it can be tricky to strike a balance
Set aside regular time for personal writing
Improve my photography skills to augment my writing
Master the arts of organization and time management–essential skills for productivity
Encourage other writers, particularly moms who are trying to find time for their passion while giving their all to their family
What are your writing goals for the new year? Leave a comment–we'd love to hear from you!