Portland holds a soft spot in our hearts. Just a few hours away from Seattle, it's easy to drive there for a weekend, and it's a perfect urban getaway for people who like books (one word: Powell's!), good food, the Northwest lifestyle, and–of course–coffee.
Food and Beverages
Let the flavors shine by keeping your coffee order simple: an espresso or macchiato if you like your coffee mostly straight, or a cappuccino. The flavors are incredibly smooth, while being distinct and bold. This is the way coffee should taste. As for the food, the chocolate-coffee loaf had a moist, spongy crumb, a delicate and not-t00-sweet flavor, and a color as deep as espresso. In other words, it was an ideal accompaniment to the showstopper coffee.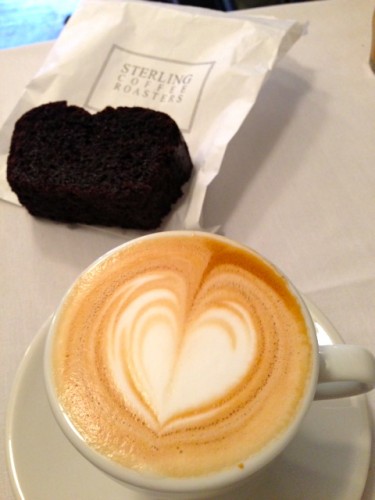 Location and Atmosphere
Described on the website as "Coffeehouse Northwest's darling child," Sterling–which is located on Northwest 21st Avenue in the Alphabet District–is a lovely little cafe that's "afforded every luxury, from the nicest clothes to the best finishing school." That essence is carried throughout the entire production, from the white tablecloths to the well-dressed staff.
The Alphabet District has a distinct charm in itself. An area zoned for historic preservation, the district is named for the alphabetical progression of street names. With beautiful classic buildings lining the streets, after you've enjoyed your visit at the cafe, it's worth a walk to admire the historic scenery.
Writeability and Purchased Presence
To be honest, you probably don't want to come here with your laptop–there's simply not enough room for a computer and your order on those charming little white linen-wrapped tabletops complete with centerpieces. But you will want to have a tiny notebook on hand to jot down all the ideas that come to you as you sip your cappuccino in such an inspiring setting.
Price: $$
Coffee and pastries cost the standard handful of dollars. Bring a $10 bill and you'll be set for a drink and pastry.
Parking
The only complaint about this place is the parking. For a city that–like Seattle–is so focused on bicycles, everyone seems to be driving around here, and street parking seems to be in high demand.
Writer's Tip
As the space in the cafe doesn't really afford room for much more than a notepad, try a notepad-sized exercise to get your brain churning on your current project. Whether your project is fiction or non-fiction, see if you can boil the content of your piece down to one or two sentences. The idea of the exercise is to sharpen the message behind your piece and give focus for further critique. If you don't have a current project, perhaps use the notepad method and work backward to develop a short story from a single nutshell sentence. Happy writing!
Find it:
Sterling Coffee Roasters
417 NW 21st Ave
Portland, OR 97209
Website