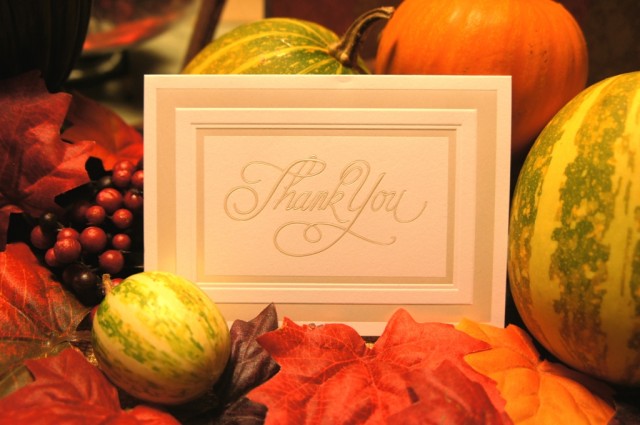 Thanksgiving is a time to give thanks and what better way to do that as a writer than in a well composed thank you note?
We thought it would be nice, on this day of all days, to revisit the age old tradition of writing a personal thank you note. There are many occasions that call for a note of gratitude, such as, when you receive a gift or are treated to some kind of hospitality or kindness.  In every case, the following are some basic elements to include for a well rounded, thoughtful thank you note.
1. Depending on how close you are to the recipient, open with "Dear [name]", then continue the letter by thanking them for the gift, hospitality or kindness offered.
2. The second sentence or part of the letter should give some elaboration of your enjoyment or use of the gift.
3. If you've been out of touch for a while, it could be nice at this point in the letter to share a little news. This is not a necessary part of the basic thank you note, but close family or friends who live far away and don't hear from you all the time might appreciate a short update.
4. A strong closing sentence or paragraph should include a sentiment of looking forward to seeing or speaking to the recipient, especially if a reunion or holiday is approaching. Mentioning "thank you" again is also nice to emphasis the point of the letter and bring it full circle.
5. End with a personal phrase like "love", "best wishes" or even "thanks again". Try to avoid closing with "sincerely yours" as it sometimes comes across as too formal.
With that, here is our thank you note to you. We really wouldn't be where we are today without you. So thanks again and have a Happy Thanksgiving!
Dear Reader,
Thank you so much for stopping by and reading our blog. Your comments and feedback are so encouraging and much appreciated! We are very touched that we can share our passion for writing with you and that we can grow together in our craft. We look forward to sharing more with you as we continue to learn and explore the writing life!
Thanks again and we'll talk to you soon!
Sarah & Daytona