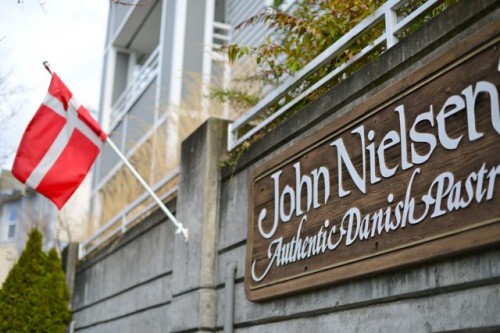 As a Scandinavian food blogger, Daytona is always looking out for good food from the Nordic countries. Having heard about Nielsen's Authentic Danish Pastry in Seattle's lower Queen Anne neighborhood a while back, she set out for lunch on a recent February morning and was excited to discover a new favorite bakery–and one that's perfect for writing.
Food and Beverages
Kringle… snitter… kransekage… Tosca… If you don't know what these confections are, then hurry up and head to Nielsen's. While danishes are perhaps the most commonly-known of the Scandinavian pastries here in America, the world of Scandinavian baked goods expands to many other delicious treats as well. In business since 1965, Nielsen's knows what it's doing.
The Tosca is a Scandinavian's dream-come-true, with a smooth and rich almond cake layered with raspberry jam, topped with caramelized almonds, and dipped in chocolate. The pastries are the big draw at Nielsen's, but if you're looking to round out your meal a little, you can also get soup or a sandwich.
Nielsen's is especially known for their beautiful handmade wedding cakes. The creations are artistic, mouth watering and bound to add an extra stunning touch to an already beautiful occasion. They also serve Olympia Coffee, which is rich, organic and always fresh from the roaster.
Location and Atmosphere
Outside the little shop in lower Queen Anne, the greasy smell of fast food mingles with the alluring scent of warm pastries–it is a quick-paced, urban part of town after all. As you drive by and notice Danish flags flying outside, you'll see what appears to be a tiny sliver of a shop. Walking down the stairs and through the door, however, you'll find it opens into a cozy and charming shop with a woman sitting with her laptop at a windowside counter, a couple of men having a business lunch at one of the tables, and young man and woman lounged in the armchairs in the back corner.
It's lunchtime on a Tuesday in February, and people come in and out at a modest yet steady pace. The shop, with its juxtoposition of country touches and play and concert posters, has the feeling of a well-loved and lived-in neighborhood cafe that's always clean and never pretentious.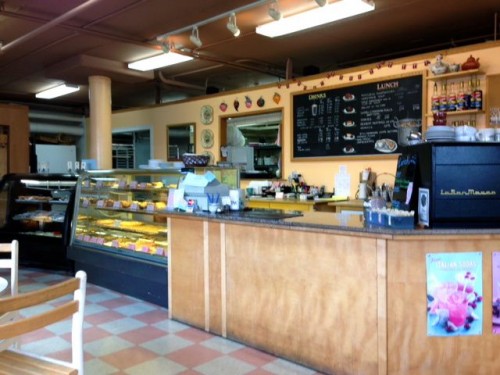 Writeability and Purchased Presence
As long as there's room, we'd say pull up a chair, pull out your laptop, order some pastries and coffee, and get writing. Order a refill and a sandwich if you're going to stay a while. And tip well.
Price: $
Typical pastries range from $2 to $4 dollars. A pastry, a cup of soup, and a drip coffee will run you about $10.
Parking
Street parking is your best bet if you want something inexpensive and don't mind walking a block or two. Pay attention, as some streets are free.
Writer's Tip
Take a moment, as you are sitting with your pastry or lunch, to think about the origins of the treats you are enjoying. Consider the culture behind the recipes and how you might let that influence the piece you are working on. If you don't have a work in progress yet, perhaps start a short story about a character with a Nordic background. Is this a cafe they might frequent? Play the 'what if' game and see where your story goes!
Find It
520 Second Avenue West
Seattle, WA 98119
Website